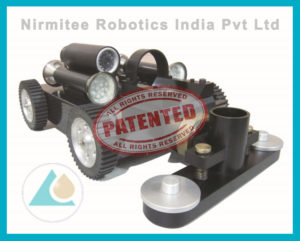 Nirmitee Robotics has developed the world's best and unique cleaning system for cleaning of HVAC ducts. As it is impossible to traverse the ducts manually to clean them, we use robots to do the job, so our cleaning methodology is completely mechanized.
The Robots used for the cleaning of the HVAC Air Duct is a patented technology and assisted by the prestigious Visvesvaraya National Institute of Technology in the year 2015.
This unique technology of air duct cleaning robots has multi-faceted uses and is the backbone of the unique bots of Nirmitee Robotics India Pvt Ltd.
Read more about NRIPL presence in the local Newspaper and media coverage here.
Another feather in our cap is the unique Ozone sterilization treatment to the ducts after the cleaning is done. Once the cleaning process as described is complete, the ducts are sprayed with Ozone gas, which sterilizes the ducts from inside so that they are absolutely free of bacteria and microbial viruses. We use the unique Ozone technology of ORAIPL.
The entire HVAC Air Duct Cleaning is video graphed for you to demonstrate the efficacy of the process.
Certified by the National Air Duct Cleaners' Association
(NADCA), USA.
Click here to Get a Free Air Duct Cleaning Consultation & Quote