Role and Functions of the Department of Industrial Policy & Promotion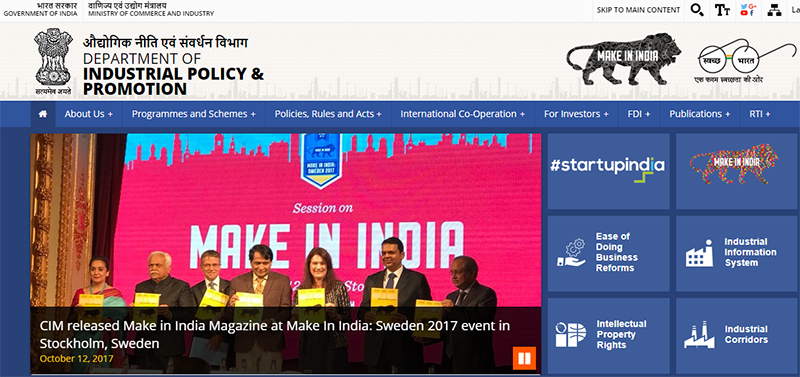 The Department of Industrial Policy & Promotion (
www.dipp.nic.in
) was established in 1995 and has been reconstituted in the year 2000 with the merger of the Department of Industrial Development. Earlier separate Ministries for Small Scale Industries & Agro and Rural Industries (SSI&A&RI) and Heavy Industries and Public Enterprises (HI&PE) were created in October, 1999.
With progressive liberalization of the Indian economy, initiated in July 1991, there has been a consistent shift in the role and functions of this Department. From regulation and administration of the industrial sector, the role of the Department has been transformed into facilitating investment and technology flows and monitoring industrial development in the liberalized environment.
NIRMITEE ROBOTICS INDIA PVT LTD HAS BEEN AWARDED THE RECOGNIZED STATUS UNDER THE DEPT OF INDUSTRIAL POLICY AND PROMOTION

 Department of Industrial Policy and Promotion is also responsible for Intellectual Property Rights relating to Patents, Designs, Trade Marks and Geographical Indication of Goods and oversees the initiative relating to their promotion and protection. These include the outlining of policy and its implementation through the Office of the Controller General of Patents, Designs and Trade Marks. It promotes awareness regarding protection of the Intellectual Property Rights inherent in industrial property in conjunction with the World Intellectual Property Organisation (WIPO) and apex industry organisations apart from similar initiatives involving regional industry associations. It also provides inputs on various issues relating to the Agreement on Trade Related Aspects of Intellectual Properties (TRIPS) related to World Trade Organisation (WTO) in these fields.